Lenses for Myopia Control
When your child experiences vision problems, you want to do everything you can to help. In the past, standard glasses or contact lenses were the only options. But standard lenses improve visual acuity; they may not stop the cause.
Controlling myopia progression in childhood can help preserve your child's vision and prevent sight-threatening complications. Myopia control lenses are one method our optometrists can prescribe to maintain your child's sight.
What Is Myopia?
Myopia, also known as nearsightedness or shortsightedness, is a common vision problem causing blurry distance vision. The condition occurs when the eye is too long lengthwise, or the cornea (front of the eye) is too steeply curved.
Because of the elongated shape, light can't focus directly on the retina (light-detecting tissue at the back of the eye). Light is essential for perceiving shapes, colours, depth, and other visual detail. With myopia, light focuses incorrectly, and the eye continues to grow—worsening distance vision.
Myopia is often diagnosed between ages 6–14. Distance vision can worsen as the eye grows, typically slowing or stopping around a person's early 20s, resulting in stabilized vision. However, late-onset myopia can develop in adults, progressing into a person's 30s.
Why Is Myopia a Problem?
Nearsightedness is common, affecting nearly 30% of Canadians. Some people have mild myopia with minor symptoms. They may wear prescription glasses or be able to complete most tasks without management options comfortably. However, moderate to severe myopia increases the risk of complications, including eye diseases that can cause vision loss.
People with moderate to severe myopia need vision correction, like prescription eyewear, for everyday activities. Sometimes, they may have too high a prescription to use standard lenses.
Myopia is on the rise worldwide. By 2050, half of the global population may be myopic, and nearly 10% may have high myopia. About 1 billion people around the world may have severe nearsightedness and the complications of degenerative myopia.
Degenerative myopia is when continued eye growth harms eye tissue, which can lead to sight-threatening complications like:
How Can Myopia Control Help?
When myopia is diagnosed early, optometrists can slow its progression. Although myopia cannot be cured, treatment can help control its progression. Controlling myopia can decrease the risk of complications and prevent the need for higher and higher prescriptions.
In some cases, early diagnosis and myopia control can help keep symptoms minor. As a result, your child may not need to wear glasses or contact lenses full-time. Managing their eye health while their eyes and sight are still developing can give them their best chance of comfortable, lifelong vision.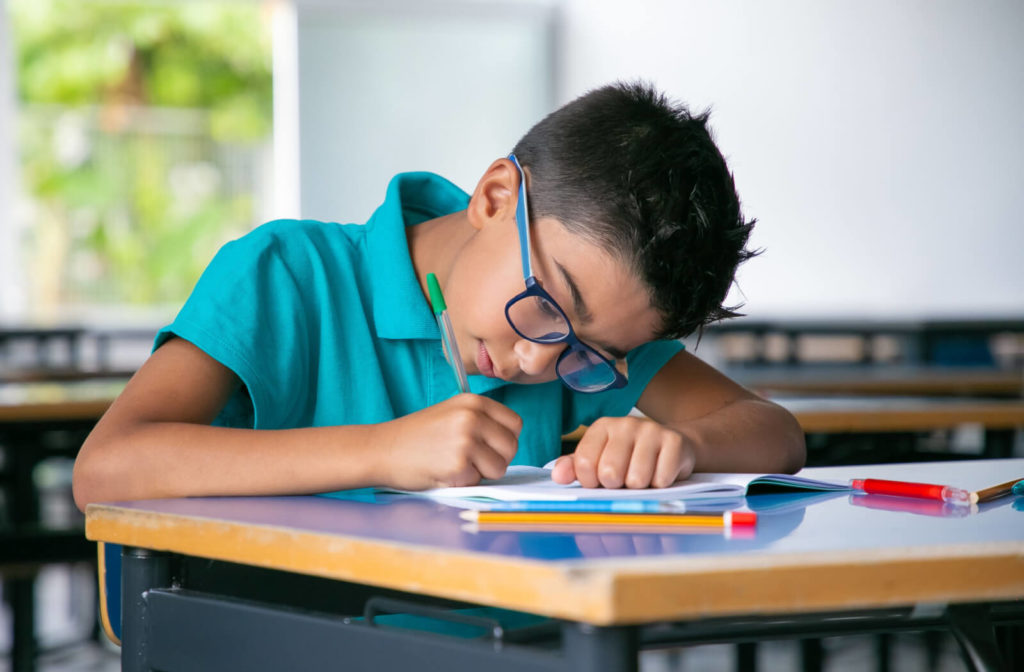 Myopia Control Lens Options
Myopia control lenses are one method optometrists may prescribe. The benefit of myopia control lenses is they correct vision–similar to standard lenses–but also prevent myopic progression.
At Beyond 20/20, there are 3 myopia control lens options we may recommend:
Contact Lenses
MiSight contact lenses are myopia control contact lenses. In standard prescription lenses, light is refocused to reach the retina. Yet, additional light (known as peripheral defocus) can still refract around the retina, focusing behind it and stimulating eye growth.
Myopia control contact lenses focus light directly on the retina to sharpen vision and focus peripheral light rays inside the eye to slow eye growth. As a result, myopic progression is significantly reduced.
MiSight 1 Day lenses are designed for myopia control in children. The lenses are single-use soft contact lenses that reduce progression of myopia by up to 60% when used as directed. As a result, less maintenance and cleaning make wear and care easier for little ones.
Myopia Control Glasses
Many children can adapt to contact lenses, but there are exceptions. For example, some children are anxious about placing something inside their eyes. Or, they may prefer the ease of removing glasses at the end of the day. Children with high corneal astigmatism may not be eligible for myopia control contact lenses.
Like myopia control contact lenses, myopia control glasses work in 2 ways, focusing light on the retina to sharpen vision and refocusing peripheral light to slow eye growth. Beyond 2020 carries 2 myopia lens options, MyoVision Pro Lenses and MiYOSMART lenses.
Slow Myopia Progression with Lenses
Managing your child's nearsightedness can protect their eyes from lifelong vision problems. Myopia control lenses offer vision correction and progression prevention. One of our friendly optometrists can work with you and your child to customize a plan for your child's needs.
Book an appointment at Beyond 2020 to learn more about myopia control.